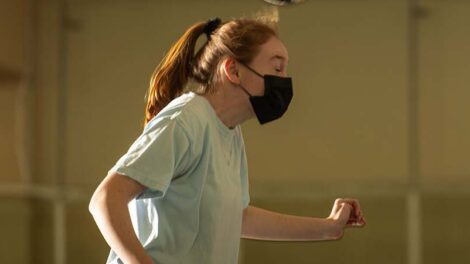 The Wolves
A adolescent women's soccer team presented audiences with an inside look at the problems and challenges teenage girls face in a world unfairly dominated by men.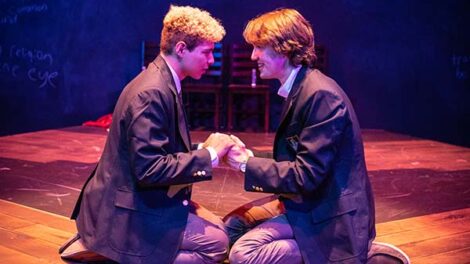 Shakespeare's R & J
Directed by Lizzie Gumula '22 as her honors thesis project, this adaptation of Shakespeare's "The Tragedy of Romeo and Juliet" explored homoerotic themes in a repressive all boys' high school. Eleanor Williams '22 designed the scenery.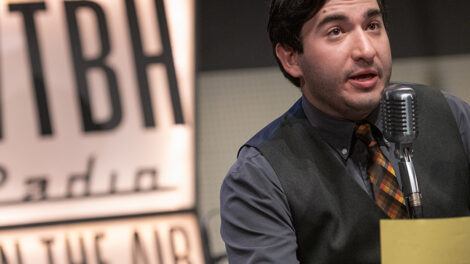 The Legend of Sleepy Hollow
Presented as a radio play circa 1947, this adaptation of the famous Washington Irving short story treated audiences with frightening effects and ghostly moments for Halloween.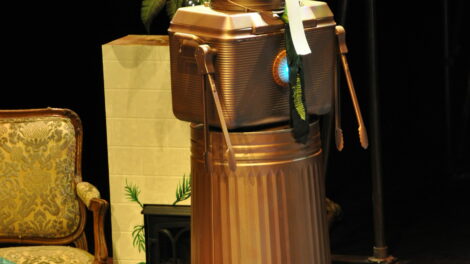 Heddatron
Henrik Ibsen, August Strindberg, five robots created by Mechanical Engineering students and their professor, Jeffrey Helm, a futuristic soundscape, and an assault of video and cinematic images gave audiences a total theater experience in February 2020.
See Archival Photographs of the Production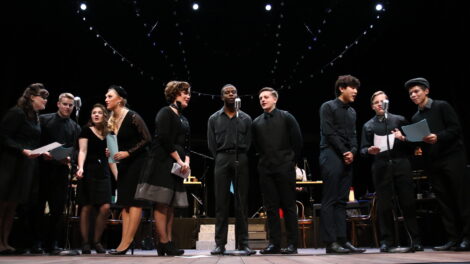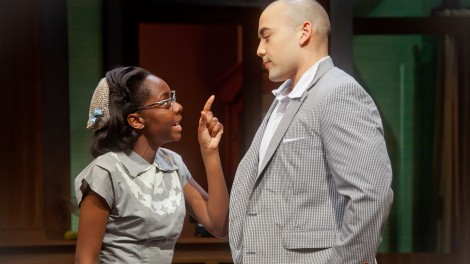 Clybourne Park
Lafayette College Theater presented its production of Clybourne Park in the Williams Center for the Arts. The show was supported by Lafayette's START initiative, which is funded by an $800,000 grant from the Andrew W. Mellon Foundation.
Photos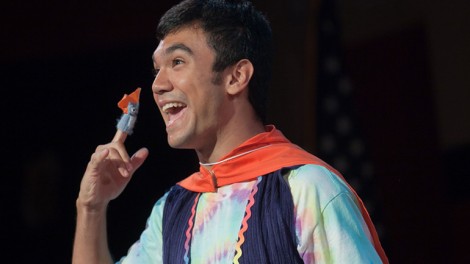 Putnam County Spelling Bee
College Theater presented its production of The 25th Annual Putnam County Spelling Bee in the Williams Center for the Arts Black Box Theater. The interactive musical calls upon audience members to come up on stage and compete with the cast as guest spellers vying for the championship of a lifetime.
Photos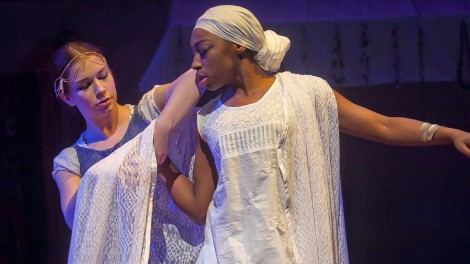 Arabian Nights
College Theater presented its production of Arabian Nights at the Williams Center for the Arts. Magical, poignant, bawdy, and cruel, the classic tales known around the world came to stunning theatrical life in an abridged version of Mary Zimmerman's inventive and ingenious adaptation.
Photos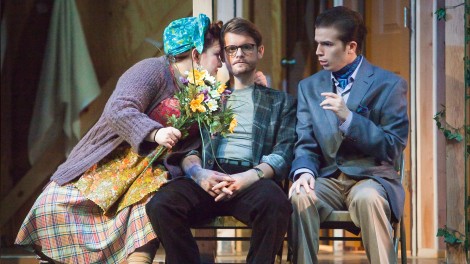 Noises Off
The Kennedy Center American College Theater Festival recognized Lafayette College Theater's production of Noises Off with certificates of merit for directing to Michael O'Neill, associate professor of English and director of theater, technical direction to Zach Tysinger, and stage management to Marybeth O'Connor '15.
Photos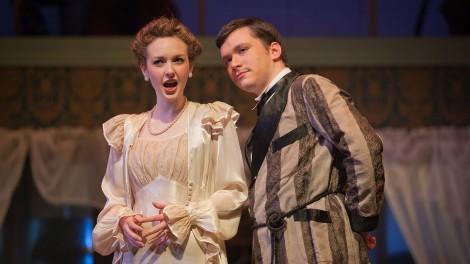 Rossum's Universal Robots
Written in 1920, this sci-fi journey into genetic engineering on a mass scale predicted a mechanized world of people without emotions and individual rights. It also introduced the word "robot" into the English language.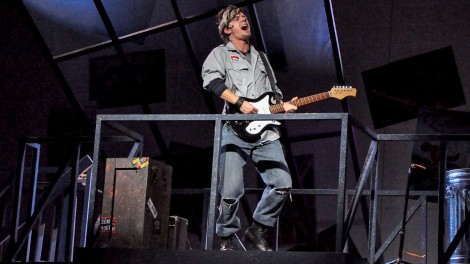 Rent
Based on the Puccini opera La Bohème, this contemporary classic tells the story of struggling artists in the era of AIDS and explodes from a dingy, disheveled loft apartment in New York's East Village. The show nabbed four Tony Awards in 1996, including one for best score.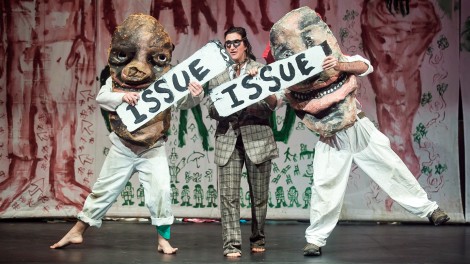 Bread and Puppet Theater: Man=Carrot Circus
This internationally recognized theater troupe returned to Easton with giant puppets and lots of satire.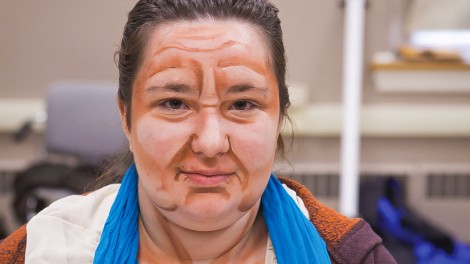 Making Theater: On Aging
A time-lapse video shows makeup being applied to a student as part of the course Making Theater: On Aging, taught by Suzanne Westfall, professor of English and theater, and Jamila Bookwala, professor of psychology. The culmination of the course is an original collaborative theater piece merging poetry, artwork, video, and music.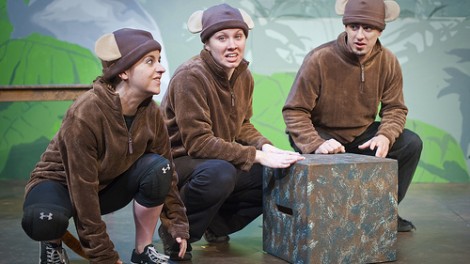 The Jungle Book
College Theater students present the play The Jungle Book and participate in a workshop with students from March Elementary School in Easton, led by assistant professor Mary Jo Lodge.
Photos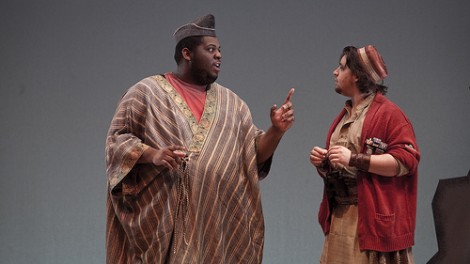 As You Like It
William Shakespeare's As You Like It, with an original score by Barenaked Ladies, was directed by Associate Professor Michael O'Neill and performed in the Williams Center for the Arts at Lafayette College March 3-6, 2010.
Photos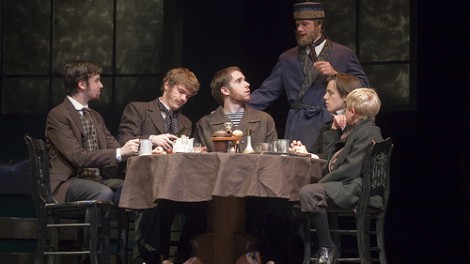 An Enemy of the People
Set in a town on Norway's southern coast in 1882, Ibsen's comic masterpiece An Enemy of the People exposes popular distrust of science as idiocy when the discoveries of a provincial town doctor threaten to destroy a growing local economy. Performed at the Williams Center at Lafayette College.
Photos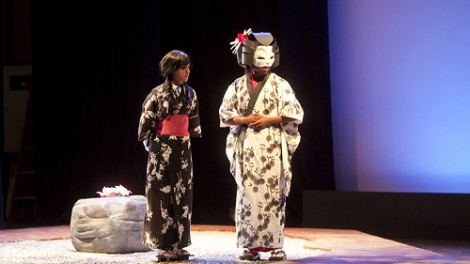 A Thousand Cranes
The true story of a girl who survived the horrors of Hiroshima for a decade before succumbing to "radiation sickness" comes to poignant, fragile life in this moving adaptation of Sadako and the Thousand Paper Cranes. Translated from Japanese into nearly every language, the book is responsible for inspiring Lafayette's National Crane Project.
Photos